HiPOx, A Proven Solution For Drinking Water Taste And Odor Issues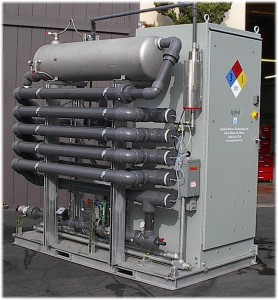 HiPOx is the most powerful ozone-based AOP system on the market, and the best available technology for drinking water AOP process. In contrast to UV and chlorine disinfection systems, HiPOx destroys trace contaminants and meets the most stringent disinfection standards while simultaneously removing odor and color to provide the safest and most aesthetically pleasing reclaimed water.
Additionally, HiPOx is more economical and sustainable than UV-AOP or Reverse Osmosis. HiPOx-DWR is the most economical and sustainable security money can buy to combat shortages, droughts, and competing demands for drinking water.
ARoNite, A Proven Solution For Drinking Water Nitrate Removal
ARoNite™ (Autotrophic Reduction of Nitrate) process is a hydrogen-based biological treatment system for the removal of oxidized contaminants from water or wastewater. The process uses native microorganisms to biochemically respire nitrate. The nitrate is then converted to innocuous gas and discharged. As the autotrophic biology meets its carbon requirement from the influent stream by using inorganic carbon, the process eliminates the need for methanol and produces minimal waste sludge compared to other carbon-based biological processes.
The ARo- technology has applications to reduce other difficult contaminants, including Chrome VI, Perchlorate and Selenate.

Certificate
CDPH( California Department of Public Health ) Approval
NSF-61 for drinking water system certificate