Oxidation Chemistry Expert
Treats recalcitrant compounds
Enhances the effectiveness of existing bio-treatment
Minimizes bromate formation
No waste-streams generated
Flexible design allows adjustments

Up to 1 billion times faster.
No extra charge
Powerful hydroxyl radical chemistry
No process residuals
Rapid clean-up
Fast & easy deployment, low maintenance
Easy Integrations with other processes
Fully-Automated 24-7-365 operation
Process safety

Solve water crisis,
no residual
No brine or concentrate
Pre-packaged integrated system
Flexible financing options
Reliable and consistent performance
Simple design and operation
Handles high influent NO3-
About APT Water
APTwater is a California-based corporation founded in 1996, headquartered in Sacramento, with a team of engineers and scientists focused on advanced oxidation and advanced reduction processes. Our core business is the development, commercialization and implementation of water treatment technologies meeting the APTwater company standard of Clean Water No Waste.
Oxidation Chemistry Experts
When it comes to chemical oxidation and AOP technology,
APTwater is the industry expert.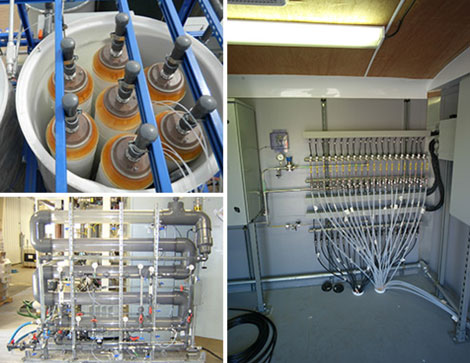 What We Treat
Our solutions meet critical needs in all aspects of the water industry: environmental remediation, municipal and industrial, and water/wastewater treatment. APTwater's technologies address the most difficult challenges in treating groundwater, process waters and wastewaters.

Contaminants
AOP (HiPOx/PulseOx)
• FUELS: BTEX, TPHg, TPHd
• OXYGENATES: MTBE, TAME, TBA
• CHLORINATED SOLVENTS: PCE, TCE, VC, DCE, 1,4-Dioxane
• AROMATICS: PAHs, Phenols, Chlorobenzenes, Creosols
• PESTICIDES & HERBICIDES: Atrazine, Dioxins, Lindane
• TASTE, ODOR & COLOR: Geosmin, MIB
• MORE THAN 100 INSTALLATIONS
ARoNite (ARo-Technology)
Nitrate
Hexavalent chromium Cr(VI)
Perchlorate
Selenium
Applications
• Potable Water
– Taste & Odor
– Contaminant Removal
• Groundwater Remediation
– Chlorinated Solvents, 1,4-Dioxane
– Fuels / Fuel Oxygenates
• Industrial Wastewater Treatment
– Phenols, Recalcitrant COD
– Complement Biological Water Treatment
• Water Re-Use
– Indirect Potable
– EDC Destruction