Korea HiPOx Industrial AOP Water Treatment
On April 11, 2005, APTwater (formerly known as Applied Process Technology, Inc). won their First International Order for 1,4-Dioxane Industrial AOP Wastewater Treatment, for a HiPOx advanced oxidation water treatment system that removed 1,4-Dioxane from industrial wastewater in South Korea. The HiPOx system will operate at a flow of 180 to 200 gallons per minute, reducing 1,4-Dioxane concentrations as high as 65 ppm down to required discharge levels, and is capable of meeting very low discharge limits that may be required in the future.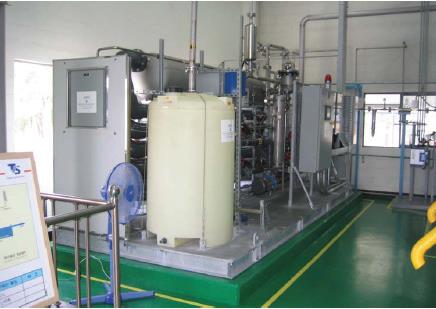 "We are very pleased that our HiPOx technology has been selected to treat this 1,4-dioxane contaminated industrial wastewater discharge," stated Terry Applebury, former APT's President and CEO. "This order confirms that the international community recognizes the value of our HiPOx technology and AOP water treatment technologies. We also expect our in-situ PulseOx technology to receive increasing international attention as we pursue initial marketing efforts in areas such as Korea, Taiwan and Europe."
The HiPOx order was placed by Toray-Saehan after laboratory bench test results indicated that HiPOx would achieve more efficient destruction of 1,4-dioxane at a lower cost than competing technologies. Applied is providing the system through G&C Engineering of Seoul, Korea, as part of a turnkey treatment system.
For more information on HiPOx AOP technology, please contact APTwater. at (916)779-7651